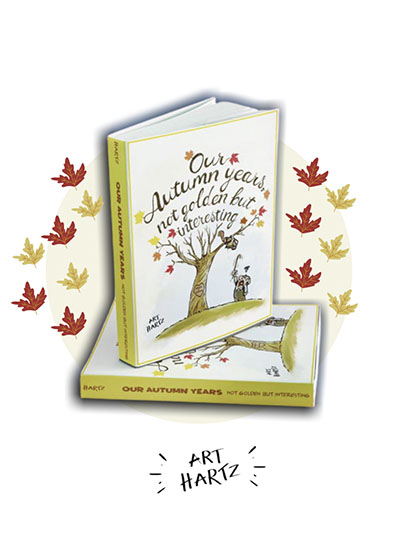 Our Autumn Years Not Golden But Interesting
Cartoons From the Front Lines of the Battle Against Aging
The elderly are often seen as physical and mental "basket cases" –– pathetic and ridiculous. They face a medical profession that lacks patience, young people who lack tolerance and families who patronize them.
Not funny, right? But what if the elderly "do not go gentle into that good night" and instead come out swinging? That's what the feisty elderly people do in the droll new book of cartoons and aphorisms,
Drawing on his medical background and the skills of top cartoonists, Dr. Hartz shows the elderly have the same variation, complexity and novelty as everyone else –– except in larger doses. Anyone with interest in aging should enjoy this insightful, spirited and compassionate humor book.
Heretical Cartoons about the American Religion of Winning
"Winning is not the most important thing, it's the only thing."  If Americans have a national creed, that's it. We care only about the winners: the most successful, beautiful, brilliant, talented, or charming among us. They matter, their faults are tolerated, their kindness exaggerated, and their companionship sought. Losers live in a different world. This book of witty cartoons and aphorisms fleshes out the details of these two worlds and shows  how deeply the culture of winning and losing determines our self-esteem and relationships.                                             Great gift for all those  in your life who face daily the pressures to achieve the thrill of victory and cushion the agony of defeat.  
Cartoons About Imperfect People Managing Their Most Important Relationship
This book shows the poignant and hilarious struggles to make love and marriage work despite genetic drives and culture that are poorly designed for intimate relationships. What brings us together in a romantic relationship is sexual attractiveness.  The traits needed for the relationship to survive —respect, commitment, empathy and tolerance — are given low priority for choosing partners.       
Our lack of ability to get past the exteriors of the person we are dating continues after marriage. For example, in one cartoon, a man who finds the athletic ability of basketball players inspirational sees nothing special about his wife heroically juggling children, home and bills.  On the other hand, there is a a woman in a happy marriage who says: "His tolerances perfectly match my deficiencies."
We are wired to need friends.   They help us, we help them; they like us, we like them.  When we don't like them, we painlessly move on to someone we do like.  If anything is set up for success, this is it.  The only sand in the gears is that our ego needs and inability to consider the ego needs of others continually creates dissatisfaction and distance in relationships. This book examines relationship friction with insight and humor. It is a sympathetic portrayal of creatures who know what should do and are able to do but can't quite pull off.
Clearly when it comes to relationships, we need to have a better understanding of our values, communication and tolerance.  This book of wry humor can help.